The Gujarat elections raised political temperatures across the nation. The results were a challenge for the newspaper editors. How should they sum up the Gujarat verdict in the headline?
The Himachal results were relatively easier to headline. It was a straight victory for the BJP.
The Telegraph editors once again rose to the occasion, and came up with a stunning headline. It was a headline that rose above the TV chatter, and was a fine example of how newspaper headlines should be different to what has been shown on television, and read on the web.
The headline did not say who has won in Gujarat or Himachal. The readers already knew that thanks to the blanket coverage on TV. Instead, the newspaper looked beyond, and commented on the two figures who were engaged in the high-decibel campaign.
You may agree or disagree with Telegraph's headline, based on your political ideology, but it showed how newspapers need to think differently to be relevant.
Here's how The Telegraph headlined the nail-biting Gujarat election results: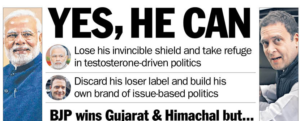 Another headline that rose above the clutter was given by The Economic Times. It chose to pun on home and hills, and by doing so brought in a freshness that most mainstream newspapers missed.

The Indian Express headline again was different, but was a little difficult to understand as it chose to bring in winter and spring together.

DNA was more straightforward. It did not mince words as it stated bluntly that Modi had rescued BJP in Gujarat.

The Times of India used cricket terminology, focusing on two figures – six successive wins for BJP in Gujarat and 99 seats.

The Hindustan Times too stressed on Gujarat being Modi's personal property.

Deccan Chronicle chose the easy way out. Instead of capturing the thrill and excitement of Gujarat results it chose a safer headline.

The Deccan Herald chose to headline the obvious.

So did Hindu.

Another newspaper that came up with a bland headline was the Statesman.