First, it was the demonetisation of Rs 500 and Rs 1,000 notes. Then, it was the stunning victory of Donald Trump. The two events, coming so close to each other, left the country shaken, and stirred.
The newspapers too had a task on their hands. On two successive days – November 8 and 9 – they had to capture the earth-shaking nature of these two events.
The Indian newspapers did not let their readers down. They came up with some arresting headlines on both the days. The demonetisation headlines punned on black money and bucks while the Trump headlines punned on his name.
Here is how the Indian newspapers headlined the victory of Donald Trump:
1. Deccan Chronicle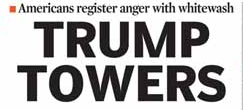 2. The Times of India

3. The New Indian Express

4. The Hindustan Times

5. The Indian Express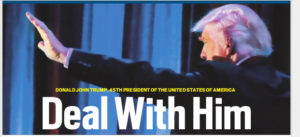 6. The Tribune

7. The Hindu