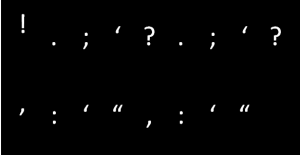 You cannot write a sentence without using a punctuation mark. The same is true of headlines which are skeletonised sentences. The punctuation marks perform two key functions in headlines: one, they bring clarity; and two, they save space.
Here is how you should use punctuation marks in headlines:
# Full stop
Full stops should be used sparingly in headlines. There are two reasons for this:
1. Each full stop means loss of headline space. This really hurts when your headline overshoots the column width by half or one letter space, and you are forced to write a fresh headline.
2. Full stops look ungainly in headlines. Imagine a newspaper page where every headline ends with a full stop. Wouldn't such a page be a visual eyesore?
Some newspaper styles require that abbreviations must carry full stops. You don't have an option in such cases. Otherwise, say no to full stops as far as possible.
# Comma
The humble comma is one of the most important punctuation marks when it comes to writing headlines. It is used for the following two reasons:
1. Save space: Comma is a great space saver. You can replace the conjunction "and" in most headlines with comma.
Manmohan and Sonia to visit Muzzaffarnagar
Manmohan, Sonia to visit Muzzaffarnagar

2. Separate news points: Comma is very useful in separating two news points in the headline.
Congress favours early polls, BJP against it
# Colons
A colon is used in place of the attributive verb as it saves space.
Centre eager to hold polls in March, asserts Chauhan
Centre eager to hold polls in March: Chauhan
# Semi-colons
Semi-colons are very effective in separating two clauses.
Shinde inducted as home minister; Tewari gets cabinet rank

# Hyphen
The hyphen should be used whenever an adjectival phrase is used in the headline.
5–year–old girl fights wild dog, saves brother
# Exclamation mark
The exclamation marks should be used sparingly in headlines. They should be used only when there is strong irony in a story or an unexpected twist.
Spiderman is scared of heights!
They can also be used for headlining funny stories, like the one where two calves were married in an Orissa village.
Moo! Bovine couple tie nuptial knot in style
# Quotation marks
You have two options when it comes to using quotation marks. You can use the single quote mark or the double quote mark. Both are correct. However, most newspapers prefer to use the single quote mark because it saves space, and looks visually more appealing.
'I have been framed'
# Apostrophes
The use of apostrophe should be limited in headlines. It should be used when a word is used in the possessive case.
Actor's car found in abandoned mine
Please improve this post by adding more insights about use of punctuation marks in headlines. You can post your views in the Comments section.