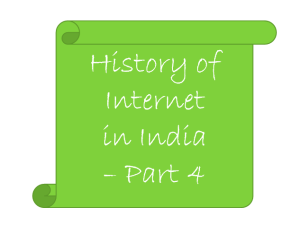 Pre-1995: ERNet and NICNet set up first Internet hubs with limited connectivity.
1995: The Gateway Internet Access Service (GIAS) launched by Videsh Sanchar Nigam Limited in four Indian cities.
1996: Three important newspapers — The Times of India, The Hindu and The Indian Express — set up websites; Rediff.com launched.
1997: Tamil newspaper Dinamani sets up website; Hotmail creator Sabeer Bhatia sells Hotmail to Microsoft for $400 million.
1998: Private ISPs allowed to set up Internet infrastructure.
1999: News links aggregator Samachar.com sold for Rs 419 crore; Hindi portal Webdunia launched.
2000: Parliament passes Information Technology Act 2000; foreign portals like Yahoo & MSN set up Indian sites.
2001: Subscription sites set up by thenewspapertoday.com and Naidunia.com; Times of India group launches 8888 mobile service; India Today group launches 2424 mobile service.
2002: Malayalamvarikha.com, the website of weekly Malayalam magazine, launches paid site.
2003: AirDeccan launches India's first online air ticketing site; National Internet Exchange of India (NiXI)
2004: BSNL introduces broadband; E-Bay buys Baazee.com; Monster.com buys Jobsahead.com.
2005: Social networking sites like Orkut make their presence felt; NiXi asked to manage .IN registry
2007: Major media websites switch to tab-based design arrives.
2008: The Information Technology Act, 2000 amended; Nixi sets up parallel IPv6 Exchange Routers in Mumbai and Delhi
2009: The Information Technology (Amendment) Act, 2008 comes into force
2010: 3G spectrum auctioned to telecom players after two-year-long process.
2012: Arrest of two Mumbai girls over Facebook postings sparks outrage across India
2013: India launches National Internet Registry under the name of Indian Registry for Internet Names and Numbers (IRINN)
Request: Some milestones in the evolution of Internet in India may have been missed in this chronology. Please add them in the Comments section.
Part I: The first ten years of Internet in India
Part II: The Web changes lanes in India
Part III: Web 2.0 rises in India, so does mobile