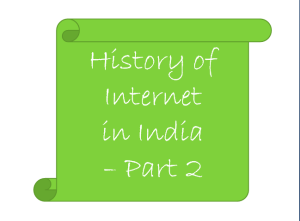 The dotcom bust did not augur well for Internet in India. The mood of despondency that settled in 1999-2000 continued into the first few years of the 21st century. The economic depression in the first couple of years of the new century further added to the gloom. But it was not long before the tide turned, and the interest in Internet returned. There was change and excitement as the country switched lanes and embraced the net.
# E-paper as an innovation
The newspapers, at one point of time, hoped that the web users will pay for e-paper. The e-paper, which was launched around 2000-01, was the exact replica of the physical paper, and a big step forward on the "pdf-papers", which were nothing more than newspaper pages converted into pdf files and published on the net. The pdf papers were unwieldy, difficult to read and took a long time to download.
The e-papers, in contrast, came with several functionalities. This included search, better archiving and easy navigation. The credit of launching the first e-paper goes to The Times of India. After that, almost all newspapers, both in English and Indian languages, have launched their own e-papers. Multi-edition newspapers like Dainik Jagaran and Rajasthan Patrika publish more than 30 e-papers every day.
But The Hindu is the only newspaper that even today charges subscription for its e-paper edition. The other newspapers experimented with subscription fee but gave up when they found that Internet users were not willing to pay. One reason for this was that the content available in the e-paper was also available on the newspaper website. Only the display was different. Another disadvantage of e-papers was that it did not allow updating. It was a static product, and carried news that was a day old.
However, one thing that must be said in favour of e-papers is that they are great archival products. They are especially invaluable for researchers and scholars who can go through e-papers from any part of the world.
# Wire services
The wire services were a major beneficiary of the net. The Press Trust of India (PTI) and United News of India (UNI) realised early that Internet was another medium and demanded that newspapers and television channels pay separate fee for using their content on the net. They also found several new clients in the websites that were set up during the dotcom boom years.
Two young news agencies that saw potential in the new medium were ANI and IANS (Indo-Asian News Service). Both these Indian news agencies modified their product offering to meet the requirements of news sites. ANI even launched a video service for the net in 1999.
The wire services were also quick to realise the kind of stories that were being read on the net. Almost all of them set up entertainment divisions to feed Bollywood content. But their greatest contribution to the net in India is the breaking story. The Home page of all news sites were dominated by breaking news stories moved by wire services.
# Technology changes
The media sites started moving away from pure HTML pages to Active Server Pages (ASP) around 2000. The new technology allowed websites to create dynamic pages, which were database driven, could be updated more easily and archived more easily.
Also, by the turn of the century, Internet Service Providers (ISPs) began setting up server farms in Mumbai, Delhi and Chennai making it possible for websites to be hosted in India.
# Launch of broadband
By 2004, the mood started changing once again, this time for the better. The optimism was sparked by a slew of factors. The first was the launch of airline and travel sites. Air Deccan, India's low-budget carrier, set up India's first online booking site in 2003. It was followed by other airlines and soon a clutch of travel sites with large funding came up. Most of them chose media sites to advertise because they had traffic.
Two big ticket sales — the purchase of Baazee.com by e-Bay and JobsAhead.com by Monster — was another reason to bring back the smiles. A further push was provided by the government which launched the broadband in 2004. Till then, broadband or lease lines were very expensive, and could only be afforded by large business houses. The government made it possible for the middle class Indian to buy a broadband connection. The user experience improved – even though broadband was defined as 256 Kbps Internet line.
It gave a new lease of life to television websites. They could now post video files, and even consider launching streaming video. Two television channels that made full use of better connectivity were those of NDTV and CNN-IBN.
They began posting more and more video files on the net. NDTV also launched a new arm – NDTV Convergence to harness the new technologies. Web portals like Rediff.com, Sify.com and IndiaTimes.com too started paying fresh attention to multimedia stories. Sify.com also launched Sifymax, a specialised multimedia section.
# Media portals
An interesting development has been the foray of a few media houses into areas that are beyond news. The Times of India Group has been especially successful. Its portal Indiatimes.com is one of the highest trafficked websites in India, and offers a wide range of services. These include web mail, blogs, e-commerce, mobile content, web hosting etc. The Group has also launched classified portals covering jobs, matrimonial and real estate.
Similarly, the Hindustan Times Group has forayed into areas beyond news. Its most important offering is Shine.com, a job and education portal. Like The Times Group, the internet activities of The Hindustan Times are powered by a separate company, Firefly e-Ventures Limited.
In the south, The New Indian Express Group set up an independent company Express Network Private Limited to develop its web presence. Once again the brief of this company is to look beyond news.
Another important media portal with multiple offerings is Webdunia. Set up in 2000, this portal has been providing content in nine Indian languages. It has built considerable depth in managing Indian language content both for the web and mobile.
These forays may be few but they showed the intent of media houses to play an important role in web space.
Part I: The first ten years of Internet in India
Part III: Web 2.0 rises in India, so does mobile
Part IV: Chronology of Internet in India