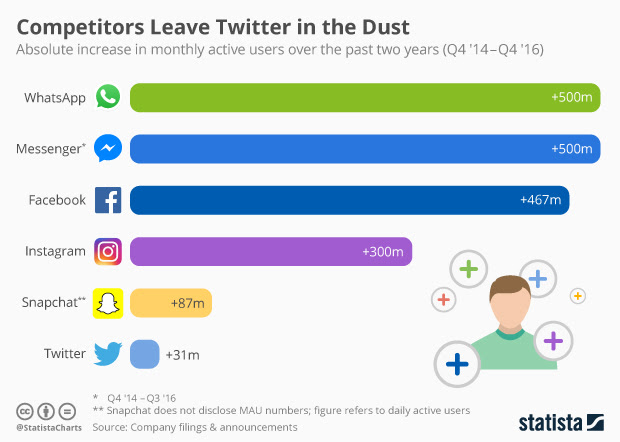 Prime Minister Narendra Modi and President Donald Trump are not the only two world leaders who are Twitter users, and who use it frequently to tweet their views. According to Expanded Ramblings, 83% of world leaders use Twitter.
Its 317 million users post over 500 million tweets every day. Interestingly one third or over one million of Twitter users visit the site every day. Now wonder, the site buzzes with activity. It is the ultimate news wire that the world has seen.
You don't visit a news site to know the latest happening. You turn to Twitter.
Yet Twitter has stopped growing. The slowdown happened after Twitter breached the 300 million mark. Today, this powerful 11-year-old social media platform is falling behind others in the race to acquire new users.
In the last two years, Twitter managed to add only 31 million active users. Many would say that this in itself is a huge number. But when you compare it with the growth happening on other social media platforms you realise that Twitter is rapidly losing ground.
As compared to Twitter's 31 million new users, WhatsApp and Facebook Messenger each acquired a stunning 500 million plus members. Facebook added 467 million members to reach 1.70 billion mark. The rapidly growing Snapchat added 87 million members.
These numbers must surely be a matter of concern for Twitter. It may be the preferred social media platform of the celebrities who use it to reach millions of their fans and followers but how does it maintain its ascendancy.
Statista charted the growth of Twitter users from 2010 to 2016, and the growth does not look inspiring. It makes you wonder why users are shying away from opening a Twitter account.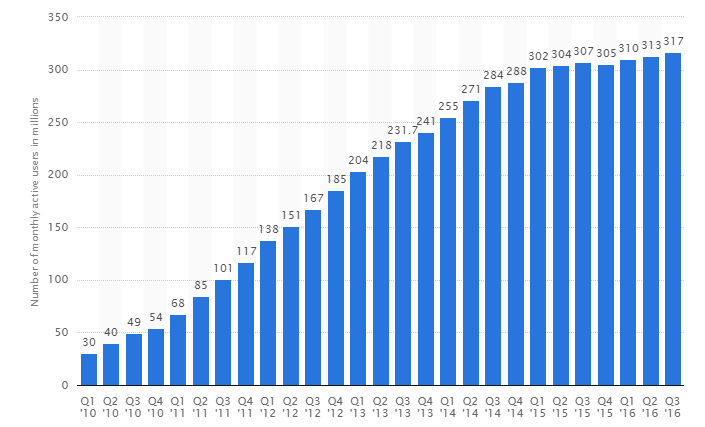 It lopped off the hugely popular Vine recently because it had become unviable.  Twitter surely would not like to go the same way. It has both utility and appeal, and great brand value.
The world needs Twitter.