What would you like more? Content that has been selected by the computer? Or content that has been selected by a human being?
There are no prizes for guessing the right answer. It's content that has been selected by humans.
It may be time consuming; it may be arduous; at times it may be frustrating. But if you are patient then you can build your own following by finding, and organising, the right content.
There is a small cottage industry that has blossomed around this activity. It is called content curation.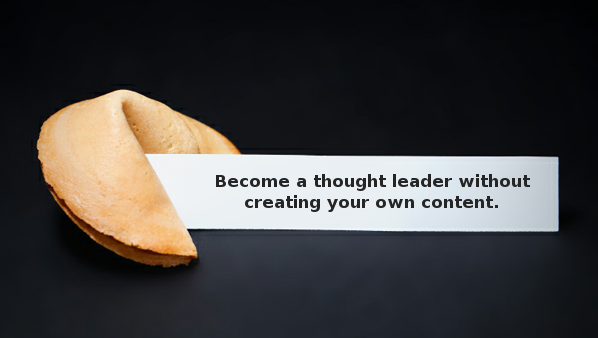 #The process
There are five steps involved in content curation.
Step 1: You need to identify a niche. It can be content related to SEO, to mobile applications or to social media platforms. It is important that the subject should interest a large number of web users.
Step 2: You should then start going through blogs, websites, company sites etc that post authoritative content on the subject.
Step 3: Bookmark the best or the most valuable content that you find on the subject.
Step 4: You can now tweet this content, put it on your Facebook page, on Linkedin, on your blog or on content curation platforms like Scoop.it.
Step 5: You can go one step further. You can add your thoughts, insights, analysis to content that you have found.
You will be surprised at the response. There will be scores of netizens who will be thankful to you.
# Content Curation Strategies
1. Weekly blog post: You can write a blog on the subject, and once every week on a scheduled day you can put up a list of curated content with your insights.
2. Weekly newsletter: You can publish a daily or weekly newsletter. But you should be careful. Don't overwhelm your subscribers by pushing too much information. The reason you are being respected is because you are trying to make sense. Who would subscribe to your newsletter if you add to the information overload?
3. Share on your social media page: A good strategy here is to give reason why you are doing so. In fact, today Facebook rewards those who add their insights to third party Facebook posts.
# Your Investment & Return
Your investment is time. The more time you invest, the higher will be the return.
Your knowledge will increase over time. You will get new ideas to write. You will start building a following. You may even emerge as a thought leader in your field.
# Content curation Tools
Content curation has really caught on. There are plenty of developers who have jumped onto the content curation bandwagon. Some of the popular content curation platforms are: Scoop.it, Content Gems, Feedly, Storify, Bundlr, iFlow, Newsle, Zemanta, PearlTrees, Triberr, Paper.li, etc.
Choose any one you like. Start content curation. Become a thought leader.