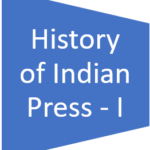 The day was Saturday; the date was January 29; the year was 1780, and the city was Calcutta. On that day India's first newspaper was born.
The newspaper had two titles. The first title, as given on top of the front page in big capital letters, was Hicky's Bengal Gazette.  Beneath it was the second title — Calcutta General Advertiser.
Interestingly, the second title was introduced with the words "Or the original". It is not clear why the owner wanted the readers to know that the paper was the original Calcutta General Advertiser. But the two names have become a part of India's newspaper history.
When teachers refer to India's first newspaper, either they call it Hicky's Bengal Gazette or Calcutta General Advertiser.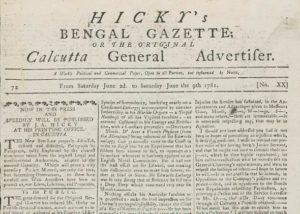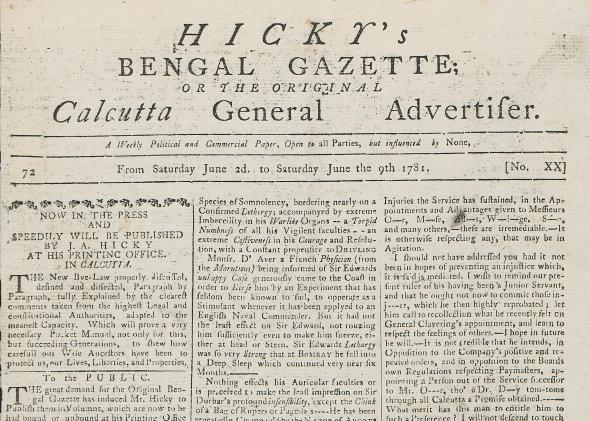 Source: Slate.com
But more than the two names it is the vision of the owner, James Augustus Hicky, that makes India's  first newspaper unique. In a telling statement, Hicky described his newspaper as a "A weekly political and commercial paper open to all parties but influenced by none."
The newspaper was made up of two sheets, whose dimensions were 12 inches by eight inches. Each page was divided in three columns, and most of the content comprised of advertisements.
The editorial content was made up of:
Extracts taken from British newspapers
Hicky's articles that addressed issues of the day including moral ones
Political and social gossip
Correspondence of local and distant writers
Reports on London fashions and local splendour
Poet's Corner.
The newspaper in its heyday sold 200 copies. But its influence was much more. It was read as well as talked about in both political and social circles.
In the initial months, Hicky kept his promise. His paper avoided direct attacks on East Indian Company and its officials. But this neutrality gave to undisguised malice when a rival newspaper India Gazette made its appearance in November 1780.
Hicky believed that India Gazette had the blessings of the then Governor General Warren Hastings and his wife. He was particularly upset at the denial of postal rights to his newspaper, and launched a malicious attack on the Governor General and his key officials. The result: Hicky was jailed and his paper shut down in 1782.
Calcutta saw a rash of newspapers during the last two decades of the eighteenth century. However, most of them were short-lived.
The second Indian city to get a newspaper was Madras. Its first newspaper, Madras Courier, started publication in 1785.  As expected, the presidency town of Bombay became the third Indian city to get a newspaper with the launch of Bombay Herald  in 1789.
The first newspapers in India had several things in common. They were invariably started by Britishers; they published parliamentary debates, commented upon social events, carried extracts about happenings in England and Europe and made veiled or malicious attacks on East India Company officials.
It is not a surprise that most of these newspapers did not last long. Here's a list of early newspapers published form the three presidency towns:
Calcutta
1780: Hicky's Bengal Gazette; India Gazette
1784: Calcutta Gazette
1785: The Bengal journal; Orinetal Magazine or Calcutta Amusement
1786: Calcutta Chronicle
Madras
1785: Madras Courier
1793: Hurkaru
1795: Madras Gazette
Bombay
1789: Bombay Herald
1791: Courier; Bombay Gazette
Read also:
The History of Indian Press II: The first press regulations came in 1799