Web publishers out to get quick traffic or make a quick buck from Facebook need to do a rethink. The social media giant has decided to block links to web pages that carry substandard content or are populated with disruptive, shocking or malicious ads.
Facebook's new algorithm will reward links to pages that publish useful information and penalise links to spammy or sensational content. The goal is to improve user experience, and comes close on the heels of Facebook's efforts to banish fake news from its News Feed.
Earlier, Facebook had come down heavily on clickbait headlines whose main aim was to motivate people to click on them even if they were misleading. It is not certain if this led to a dip in the number of clickbait headlines seen on the web; but it certainly showed clickbait headlines in a negative light. Till then, clickbaits were considered the best way to write clickable web headlines.
Facebook's latest action follows a review of hundreds of thousands of web pages whose links populate Facebook's News Feed. During this review, Facebook realised how spammers were milking Facebook. They were using misleading links to transfer people from Facebook to pages that contained little substantive content but carried a large number of disruptive, shocking or malicious ads. The goal was to make money at Facebook's expense.
Facebook then used artificial intelligence "to understand whether new web pages shared on Facebook have similar characteristics". If yes, Facebook has decided to relegate these links to the bottom of the feed. The web pages that will bear Facebook's wrath are: pages that lack substantive content; pages that publish an abundance of ads, especially ones that are shocking or malicious; and pages that use disruptive ads such as pop-up ads.
Beefing of Related Articles
At the same time, Facebook has started building its Related Articles section. This is part of Facebook's effort to create and support an informed community on its site. Facebook would now mine related content available on the web and show the links of the best articles to its members. This will be a great value add for members who need not search for articles on the web. The relevant ones, on which a discussion is happening or which are topical, will automatically show up in the News Feed of members.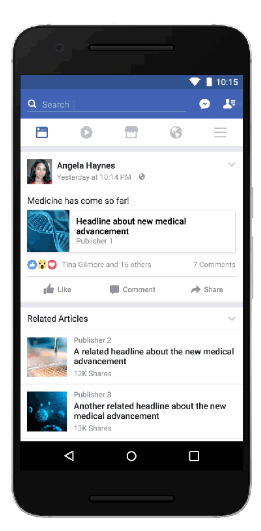 Facebook had launched the Related Articles section in 2013 to help people discover interesting articles on a topic. These articles appeared in the News Feed after people had read an article. Now Facebook plans to show these articles even before a member has read an article that has been shared in the News Feed. For instance, when people are discussing an article about a new medical advancement, Facebook may show a few articles curated from different publishers about the same medical topic. These links will appear below the article.
Facebook has just started testing the feasibility of the idea but it has the potential to further improve member experience.