The most difficult thing for a new blogger is to write clickable headlines. Often, the best written blogposts lie unread because of listless and dead headlines.
New bloggers need not despair. Coschedule.com has developed a headline writing tool that helps create clickable headlines.
The tool, called Headline Analyser, examines the words used by the writer to create a clickable headline. It also assigns a score to each headline that is submitted to it for analysis.
The analysis includes a study of words used to write the headline, number of characters that form the headline, and number of words used.
Each one tells you what is wrong with the headline. The word analysis, in particular, is the most useful. The headline analyser breaks your headline into four parts: common words, uncommon words, emotion words and power words.
You can then add the words that are missing, and resubmit the headline for analysis. The headline analyser allows you to keep experimenting till you find the clickable headline.
Here's how I found the clickable headline for an article I wrote on Google AdSense.
My first headline — What can bloggers earn from Google AdSense —  received a score of 62.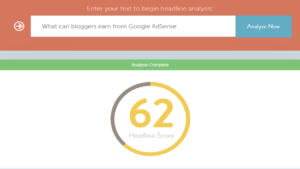 I came up with a new syntax, and the score for the headline —  Make money from your blog; sign up for AdSense —   went up to 66%.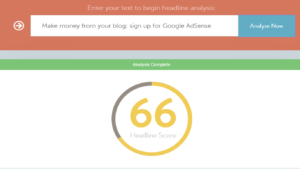 But this was not good enough. Next, I tried to excite curiosity, and used "the secret" formula. The headline — The secret of earning big money from your blog — took the score to 71.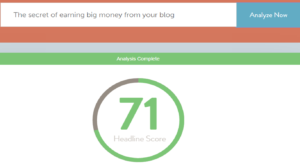 This too was not satisfactory. I now tried a "How to" headline — How to make money from Google AdSense — and the score jumped to 77.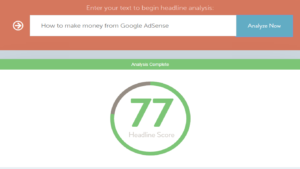 Next, I added a power word – big — to the headline, and the score breached the 80 threshold. It reached 81.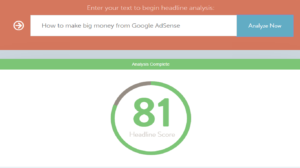 My clickable headline was ready.
I made one more attempt. This time I wanted to create a generic headline that could also work as a clickable headline. The headline was Google AdSense is the best way to earn big money. The score was 81. I used this headline.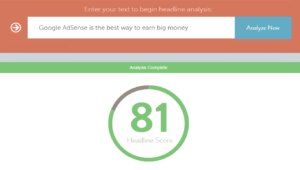 You too can create awesome clickable headlines by using the Coschedule Headline Analyser tool.
You may also like to read Headlines that increase clickthrough rates.