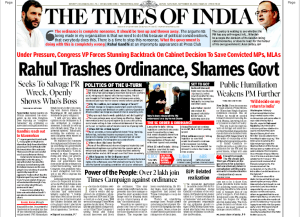 "Rahul Trashes Ordinance, Shames Government"
The Jaipur edition of The Times of India ran this headline across eight columns on its front page on September 27. The announcement by the Congress Vice President, Mr Rahul Gandhi, and the manner in which it was delivered, had the entire country talking about it. The editors therefore decided to give the story the maximum attention – they ran a banner headline underscoring its significance.
Banner headlines are attention grabbers. They set the tone, and are used sparingly. A classic banner headline has three key characteristics:
1. Magnitude
It is written only for those events that can be considered "earth shaking" such as the sudden fall of government; a natural calamity that claims hundreds of lives; a scientific breakthrough that can change the course of mankind; an act of criminal violence that shakes the conscience of the nation; a court judgement that can reshape the country's polity. It is for the newspaper editor to assess the magnitude of the event before giving the green signal to run the banner.
2. Display
A banner headline is run across eight columns, and placed on top of the front page of the newspaper. It is set in the highest point size that the newspaper style permits. No other headline on the front page is written in a point size bigger than the banner headline. There was a time when the banner headline was set only in capital letters. This made the headline stand out. It is not so today. Newspapers today run banners in the upper lower format too.
3. Usage
The banner headline is used rarely. There is great sanctity attached to the significance of a banner headline. The editors realise that they will dilute the importance of banner headlines if they use it too often. They therefore reserve it "for the rarest of the rare" stories.