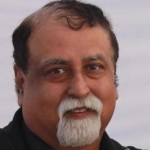 This blog is written by Sunil Saxena who is an award winning media professional with over three decades of experience in New Media, Social Media, Mobile Journalism, Print Journalism, Media Education and Research.
He incubated the award-winning Gaon Ki Awaaz, India's first voice-based news and information service for rural India that won two South Asian awards and one National award for innovation.
Sunil has authored three media books that are referred texts in most Indian Universities. He is also a Certified Social Media Professional from Hootsuite University.
His current passion is Social Media, and its integration with industry and traditional media. Among other things he is keenly interested in content management, website development, social media consultancy, development of mobile content and media training.
He has over three decades of experience. As a journalist, he has worked in senior positions in The Times of India, India Today, The New Indian Express, The Pioneer and the Business India Group.
As a media educator, he has set up two media schools – Asian College of Journalism and the International Media Institute of India. Besides this, he has had two stints with The Times School of Journalism. He currently works as Professor and Dean, School of Communication, G.D.Goenka University, Gurgaon..
Sunil writes this blog to share his media knowledge acquired over three decades in different organisations. He can be reached at sunil@easymedia.in.
http://www.linkedin.com/in/sunilsaxenaindia
Twitter handle: https://twitter.com/easymediaindia
Facebook page: https://www.facebook.com/EasyMedia
Pinterest Board: http://www.pinterest.com/sunilsa/easy-media/