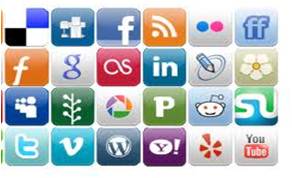 Social Networking Sites like Facebook and Linkedin are the most popular web destinations today. And why not. They provide a platform to people to connect with friends, relatives and acquaintances across the world.
The facilities they provide have allowed them to overtake e-mail as the most potent killer application on the net.
Here are eight key characteristics or features of Social Networking Sites:
# 1. Free web space
Each member is provided free web space to publish content.
# 2. Free web address
Each member gets a unique web address that becomes the identity of that individual or business. The members can then use their web address or url to promote themselves or their business.
# 3. Build Profile
Members are provided web space to build their profiles. The profiles serve a dual purpose: one, they allow friends or contacts to identify members from their profiles; and two, the data entered by the members is used by Social Networking Sites to connect with other members who have a similar background.
# 4. Upload content
The Social Networking Sites allow members to upload text messages, photographs, audio and video files free of cost. All posts are arranged in descending order with the last post coming first. Further, all content is published in real time, and becomes visible instantly.
# 5. Build conversations
Content posted by members can be browsed and commented upon by all members who form part of the community. Content can also be tagged from third party sites on subjects that interest the group.
# 6. Chat client
Most Social Networking Sites have chat clients and members who can chat with each other in real time.
# 7. E-mail
Members can send e-mails to each other. The Social Networking Sites also send e-mail alerts whenever a member is tagged in a third party post. This enables members to learn when a fellow member has connected to them.
# 8. Create Pages
Members are allowed to create pages where they can post articles or photographs related to a theme. The pages can also be used to promote businesses.
Please add characteristics that I may have missed out in the Comments section.