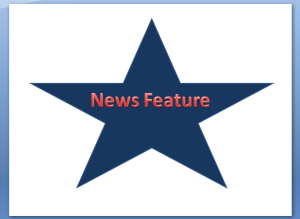 A news feature brings out the best in a reporter. It reflects the reporter's writing skills and hard work. It is built around a news point and has plenty of information to hold reader attention.
There is no one single way in which a news feature can be written. Each writer has his own style, which may differ from subject to subject. This is what makes news features unique.
The six points that should be kept in mind while writing a news feature are:
Step 1
Story mapping: The first step requires exploration of all possible angles. For instance, if you are writing a news feature on hotel discotheques or discos as they are popularly known in India then you first need to make a list of issues involving discos.
This may include the kinds of hotels that run discos, the ambience at discos, the bands that play at hotel discos, the background of teenagers who flock to discos, the dresses they wear, their mannerisms, the prevalence of drugs or drinks culture etc

Step 2
Decide your angle:: You can't possibly write a news feature on Indian discos that covers all the points listed above. Such a feature will either become too long or too generalized. It makes sense to narrow your feature down to two or three points.
Step 3
Break down each of the points into several sub-points: For instance, if you have decided to focus on teenagers who crowd such discos, then you can build sub-themes like:
a. Dressing: How do these teenagers dress? Is it in keeping with the general social trends or it is different? Bring out specific styles favoured by disco goers.
b. Age Group: What is their age group?
c. Average spends: How much money do they spend on a single night? What are the products that they buy? Is it drinks? Is it food? Is it drugs?
d. Background: Are they students? Are they working professionals? Do they have BPO backgrounds? Are they married?
e. Hair styles: How about their hair styles? Are they permed? Are they spiked?

Step 4
Start your research: Obviously, the first place to visit are the discos. Meet the manger, meet the waiters, meet the bartender, meet the DJ. Speak to them at length to get details about how the dressing, attitudes and mannerisms of diso goers.
Next speak, to a cross section of dancers. Make sure, you get to speak to collegians, working couples, single men and women. Find out about their backgrounds, and the reasons that bring them to the disco.
Speak to their parents, friends if possible. Speak to the police. Find out if there are brawls, scuffles, drug taking etc at the discos, and if yes, what is the background of youth involved.
You also need to log on to the net, and download as much information as is available on the subject. You also need to check from your newspaper library if any rival publication has done a feature on hotel discos, and the angle taken by them.
Step 5
Go through the information, and put on your thinking cap: Please remember that this is not a news story, which has to be written in an inverted pyramid format. You have to relate it as a story teller.
Your goal should be to transport your readers to a hotel disco and let them visualize groups of teenagers, working couples, single mothers gyrating to music under psychedelic lights. They should be able to recreate the scene simply by reading your feature.
This can only happen if your description is accurate and realistic. It is not enough to say that young boys and girls from affluent families are making a beeline to hotel discos. It is important to describe a 15-something girl in a short top clinging on to the arms of her boyfriend with spiked hair as they make their way to the dance floor. It is essential to describe the brand of cigarette a young man is smoking as he stares at single girls and makes smoke rings.
But make sure you stick to the themes that you have selected. Your feature should not stray into areas that are not relevant to your immediate focus.
Also, please put your opinions on the backburner. Your job is not to moralise; your job is to narrate a story. You should use quotes to add colour and drama to the feature.
Step 6
Punch line: Make sure that you round off the feature with a suitable punch line. This can be a quote or a wisecrack. But it should be in keeping with the theme of the feature.