The Front Page of a newspaper showcases the best news reports of the day. Invariably, these are reports that in newspaper parlance are called hard news reports. These reports describe terror attacks, political changes, natural calamities, accidents, etc.
But there is one report on the Front Page that is not a hard news story. This report is called the anchor. It is a soft story, a light story that is written with great love and passion.
The anchor became popular in India in the 1980s. A special place was earmarked to run this story – the base of the front page. To make the anchor stand out, the headline of the story was set in italics or a light font that was different to the headlines used on the rest of the page.
Some editors even chose a different body setting. They indented the anchor story or boxed it so that it looked different and stood out.
Even today, the anchor is an important part of the Front Page line up. The editors in the morning meeting want to know which story is planned as the day's anchor.
There is no fixed subject on which anchors are written. The popular ones are offbeat cricket stories, health stories, science stories, celebrity stories or simple human interest stories that touch your heart.
There were three great anchor stories that I read this morning.
The one I liked most was the anchor run by The Telegraph. It was not an anchor in the classical format but it lifted the newspaper. The story described how the top bureaucrats of the country chatted and gossiped while the Cabinet was meeting to take decisions on sensitive subjects like creation of the state of Telangana. The Prime Minister had to send a joint secretary to tell his top babus to speak softly!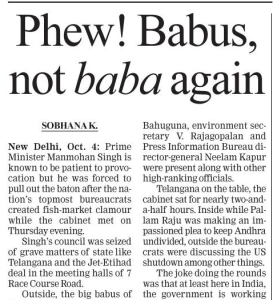 The Hindustan Times had a great anchor on the Indian cricket captain Mahendra Singh Dhoni. The story described how India's cricket superstar drove down to Jaipur from Delhi to play a match. The high part of the story was when he was caught driving on the wrong side of the road.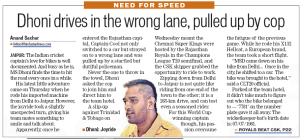 The Indian Express too had a cricket anchor. The anchor narrated the struggles of Afghan boys who overcame the troubles in the war weary nation to qualify for the 2015 World Cup cricket. Incidentally, the Indian Express brands its anchor as Page 1 anchor.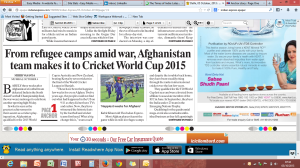 To sum up, an anchor has the following characteristics:
It is a soft story that provides contrast on the Front Page
It is run on the base of the page
The font/style used to write the headline is different
The display is multi-column
The body setting can be indented or the story can be boxed.